Sustainable Protective Products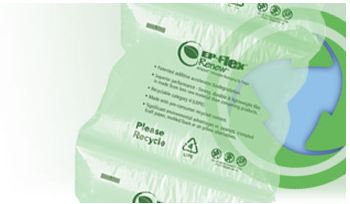 With a demonstrated commitment to environmental concerns, Pregis will continue to lead the protective packaging field in addressing pertinent environmental concerns. We plan to continuously improve and strengthen our sustainable packaging product solutions and offer protective recycled packaging innovations that help meet the growing environmental needs of our customers.
---

Biodegradable Film
HC Renew™ hybrid cushioning film contains a special and precise blend of ingredients that allow for microbial biodegradation and it is tough, 100% recyclable and contains pre-consumer recycled content.
HC Renew inflatable packaging uses a proprietary additive in the manufacturing process, attracting microbial communities found in environments such as landfills, to accelerate product biodegradability.
---
biodegradable film
Renew inflatable void fill packaging contains a special and precise blend of ingredients that allow for microbial biodegradation. Providing the same quality performance characteristics as the standard EP-Flex film, EP-Flex Renew air pillows are tough, 100% recyclable and contain pre-consumer recycled content.
---
| | |
| --- | --- |
| Absolute™ EZ-Seam™ Renew™ is a recycled lip and tape flooring underlayment system that is made from a minimum of 25% recycled content. This recycled flooring underlayment is ideal for homeowners looking for a sustainable option. | |
---
Recycled Bubble Packaging
Recycled.  Recyclable.  Reusable.
Astro-Bubble Green Bubble from Pregis contains up to 40% recycled material! This recycled bubble packaging is manufactured with reusable polyethylene resin and consists of up to 40% recycled plastics. These include up to 20% post consumer content, reducing landfill waste.
---
air cushion packaging
Pregis economy air cushion packaging now contains 25% post-industrial recycled resin as Astro-Bubble Renew!
Lightweight, clean and flexible, Pregis air cushion packaging materials offer a smart alternative to loose fill. When wrapped around products and used for void fill, Pregis air cushion packaging provides high-performance protection.
And because it's transparent, product identification is instant and easy.
---
Content PE Recycled Sheet Foam:
An Eco-Friendly Recycled Sheet Foam Packing Option
Astro-Foam Renew is a cost-effective, flexible, and all-purpose recycled sheet foam that will not only protect your goods, while being handled or when in-transit, but will serve as an eco-friendly alternative to protecting your goods with recycled sheet foam. Containing between 15% and 35% of pre-consumer raw material content that has been salvaged and repurposed into recycled sheet foam, Astro-Foam's recycled sheet foam packaging is a state-of-the-art product protective sheath that provides options to its consumers that have both practical and effective applications in the real world — only with a long-term view.
---
100% paper padded mailer
Pad-Kraft padded paper mailers are the environmentally preferable way to protect items during shipment. FSC Certified, 100% recyclable and extremely durable!
---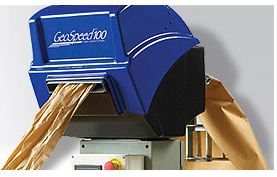 Kraft paper packaging system
Fast. Durable. Versatile
The GeoSpeed 100 paper system is the answer for those who want a fast and easy-to-operate system that provides exceptionally flexible and eco-friendly crumpled paper packing material.
This on demand system is easy to operate and generates Kraft paper packaging that is perfect for packing products which require absorption or temperature insulation. The crumpled paper packing is fully biodegradable and recyclable, and is the perfect solution for packing objects with sharp corners that could pierce other forms of packing material.
---
With over 25 years of experience in Logistics, Warehousing, Transportation, and Manufacturing, in a wide variety of industries, RedStone is primed to help you with your packaging needs.  As a regional distributor of Pregis' industry leading packaging products, RedStone is ready to assist you in all of your packaging needs.  From money saving, high speed inflatable packaging fillers to foam in place packaging systems, RedStone and Pregis are ready to help you save money and package your products like a pro!

Give us a call today and put our expertise to work for you!
Call or email Carlos Ramirez @ 915.490.7194 or cramirez@redstone-llc.com
Please leave us your contact information and a brief description of your packaging needs and we will get back to you with more information.
[contact_form]