AirSpeed® inflatable packaging systems
AirSpeed® Inflatable Systems

Airspeed inflatable systems, cushions and bags are designed to transport packages safely from point A to point B.
---
into-the-box inflatable packaging system

The AirSpeed AutoFlow™ dispenser is designed to accelerate AirSpeed 5000 inflatable cushions into the box and separate the pillows automatically. This innovative, unique accessory is designed to be used in combination with an air cushion machine to create a complete inflatable packaging system. It is ideal for high volume, centralized set-ups to increase efficiency, eliminate bottlenecks and improve packaging ergonomics.
---
 into-the-box dispenser
inflatable packaging system
The HC Autoflow inflatable packaging system accelerates AirSpeed HC hybrid cushioning into the box and separates the pillows automatically and eliminates the need for an operator to tear perforations manually. When paired with the AirSpeed HC air cushion machine, the unit reduces labor and increases packaging output.
---

Biodegradable Film
HC Renew™ hybrid cushioning film contains a special and precise blend of ingredients that allow for microbial biodegradation and it is tough, 100% recyclable and contains pre-consumer recycled content.
HC Renew inflatable packaging uses a proprietary additive in the manufacturing process, attracting microbial communities found in environments such as landfills, to accelerate product biodegradability.
---
biodegradable film
Renew inflatable void fill packaging contains a special and precise blend of ingredients that allow for microbial biodegradation. Providing the same quality performance characteristics as the standard EP-Flex film, EP-Flex Renew air pillows are tough, 100% recyclable and contain pre-consumer recycled content.
---
hybrid inflatable cushioning system
Pregis puts the Versa in versatility with this new hybrid air cushioning system.  With the option to produce a variety of cushion heights and widths on demand or at the fastest speed available on the market, the AirSpeed HC Versa is perfect for operations that package products with varying demand, size and shape. In the other words, the HC Versa is one system that can virtually do it all!
---
hybrid inflatable packaging system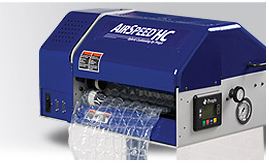 Pregis introduces the ultimate inflatable packaging system. An on-demand hybrid cushioning system —the AirSpeed HC system reaches speeds of 75 feet a minute. This inflatable packaging system is the fastest air pillow machine of its kind on the market.
With an AirSpeed HC air pillow machine, operators can inflate hybrid cushioning on-demand, increasing efficiency and optimizing warehouse space required for other materials. AirSpeed HC inflatable packaging system material is ideal for void fill – top, sides and bottom, cushioning, block and brace, wrapping and packing and light duty cushioning.
---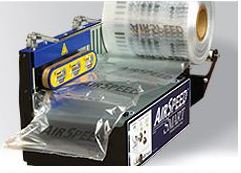 inflatable void fill packaging
Pregis presents a convenient and cost-effective way to create inflatable packaging cushions on-demand for compact packaging operations– the AirSpeed Smart system. Our lightweight system offers portability, durability and functionality. With great ease, the Smart turns flat, easy-to-store, market leading performance film into lightweight, non-abrasive void fill packaging.
---
inflatable cushion system
The AirSpeed 1000 Inflatable Packaging System converts your packaging process into an economical and time-saving operation that gets shipments out on time.  Key to the AirSpeed 1000 system's effectiveness is the single PE bag that inflates to cushion and protect your product.  The flexible, durable barrier blend, ultra-light bags nest firmly against your products and are highly resistant to punctures and tears.
---
air bag packaging 
inflatable cushioning system

The AirSpeed 3000 accommodates varying pillow lengths on the fly! This versatile air pillow packaging machine is fully automated and requires little set-up, training or operator involvement. The entire air bag packaging system is designed to reduce dedicated inventory space, with compressed material taking up less than 1% of its inflated volume.
---
inflatable void fill packaging
The AirSpeed 5000 inflatable packaging system offers speed, versatility, durability and functionality. Our reliable machines and durable film create void-fill packaging cushions on demand. This unit converts film into inflatable packaging at a rate of 75 feet per minute.
Chains of air cushions are created using ambient air, eliminating the need for an external air supply making the unit truly portable. The AirSpeed™ 5000 void fill packaging system operates faster than its predecessors enabling it to keep up with high-demand packaging situations. Inflatable packaging is created on demand, minimizing inventory space requirements.
---
engineered inflatable packaging
The AirSpeed 9000 product line is an innovative and efficient inflatable packaging solution. This unique design keeps a series of adjoining tubes securely inflated to cushion and protect products during shipment.  The air tubes are connected via a series of patented one-way valves – if one air chamber is punctured, the others remain inflated.
Increase productivity by using inflatable cushioning to reduce labor, material, storage, shipping, and damage/return costs. AirSpeed 9000 inflatable packaging products improve your bottom line by reducing space needed for storage, and keep shipping costs low by providing a lightweight product for void fill.
---
As a regional distributor of Pregis' industry leading packaging products, RedStone is ready to assist you in all of your packaging needs. From money saving, high speed inflatable packaging fillers to foam in place packaging systems, RedStone and Pregis are ready to help you save money and package your products like a pro!
Please leave us your contact information and a brief description of your packaging needs and we will get back to you with more information.
[contact_form]