GeoSpeed™ paper packaging systems
---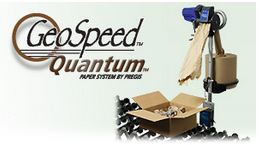 paper packaging system
The Pregis GeoSpeed Quantum is a quantum leap in paper packaging!  The Quantum system sets a new standard for modular work station packaging that is unmatched by competitive systems. The combination of simplicity and reliable performance insures that packaging productivity is never compromised. The GeoSpeed Quantum is the fastest and most efficient single-ply paper packaging system available on the market.
---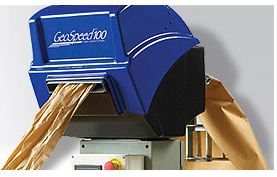 Kraft paper packaging system
Fast. Durable. Versatile
The GeoSpeed 100 paper system is the answer for those who want a fast and easy-to-operate system that provides exceptionally flexible and eco-friendly crumpled paper packing material.
This on demand system is easy to operate and generates Kraft paper packaging that is perfect for packing products which require absorption or temperature insulation. The crumpled paper packing is fully biodegradable and recyclable, and is the perfect solution for packing objects with sharp corners that could pierce other forms of packing material.
---
As a regional distributor of Pregis' industry leading packaging products, RedStone is ready to assist you in all of your packaging needs. From money saving, high speed inflatable packaging fillers to foam in place packaging systems, RedStone and Pregis are ready to help you save money and package your products like a pro!
Please leave us your contact information and a brief description of your packaging needs and we will get back to you with more information.
[contact_form]