HC AutoFlow™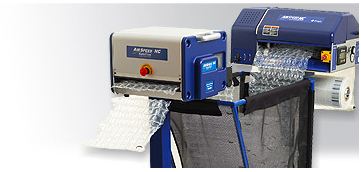 into-the-box dispenser
inflatable packaging system
The HC Autoflow inflatable packaging system accelerates AirSpeed HC hybrid cushioning into the box and separates the pillows automatically and eliminates the need for an operator to tear perforations manually. When paired with the AirSpeed HC air cushion machine, the unit reduces labor and increases packaging output.
An air cushion machine can deliver space savings along with lower material and shipping costs. The inflatable packaging system uses transparent, durable, non-abrasive film in a variety of sizes for all your shipping needs. This alternative to other void-fill options is environmentally friendly.
This inflatable packaging system is easy to program and load, and increases efficiency by saving time and space as well as labor costs. The air packaging serves as a void fill that is reusable and recyclable while retaining durability.
The AutoFlow inflatable packaging system eliminates the need for an operator to tear perforations manually.
Increases Efficiency:  High speed AutoFlow reduces labor and increases packaging throughput.
Cost-Effective:  Paired with the AirSpeed HC air cushion machine, this unit delivers low cost material, low cost shipping, labor efficiency and space savings.
Simple:  Easy to program and easy to load inflatable packaging system.
Ergonomic:  Separates cushions for operator eliminating the handwork of pulling and tearing perforated pillows.
Hybrid Cushions:  Uses clean, transparent, durable and non-abrasive film; the air cushion machine offers significant advantages verses alternatives.
---
As a regional distributor of Pregis' industry leading packaging products, RedStone is ready to assist you in all of your packaging needs. From money saving, high speed inflatable packaging fillers to foam in place packaging systems, RedStone and Pregis are ready to help you save money and package your products like a pro!
Please leave us your contact information and a brief description of your packaging needs and we will get back to you with more information.
[contact_form]